Premiering Saturday, May 13 at 2:30PM & Sunday, May 14 at 2PM • NW Florida Theater Festival | Emerald Coast Theater • Grand Boulevard in Sandestin, Florida
MY BARISTA! A Musical Starring REDD By Anne Hunter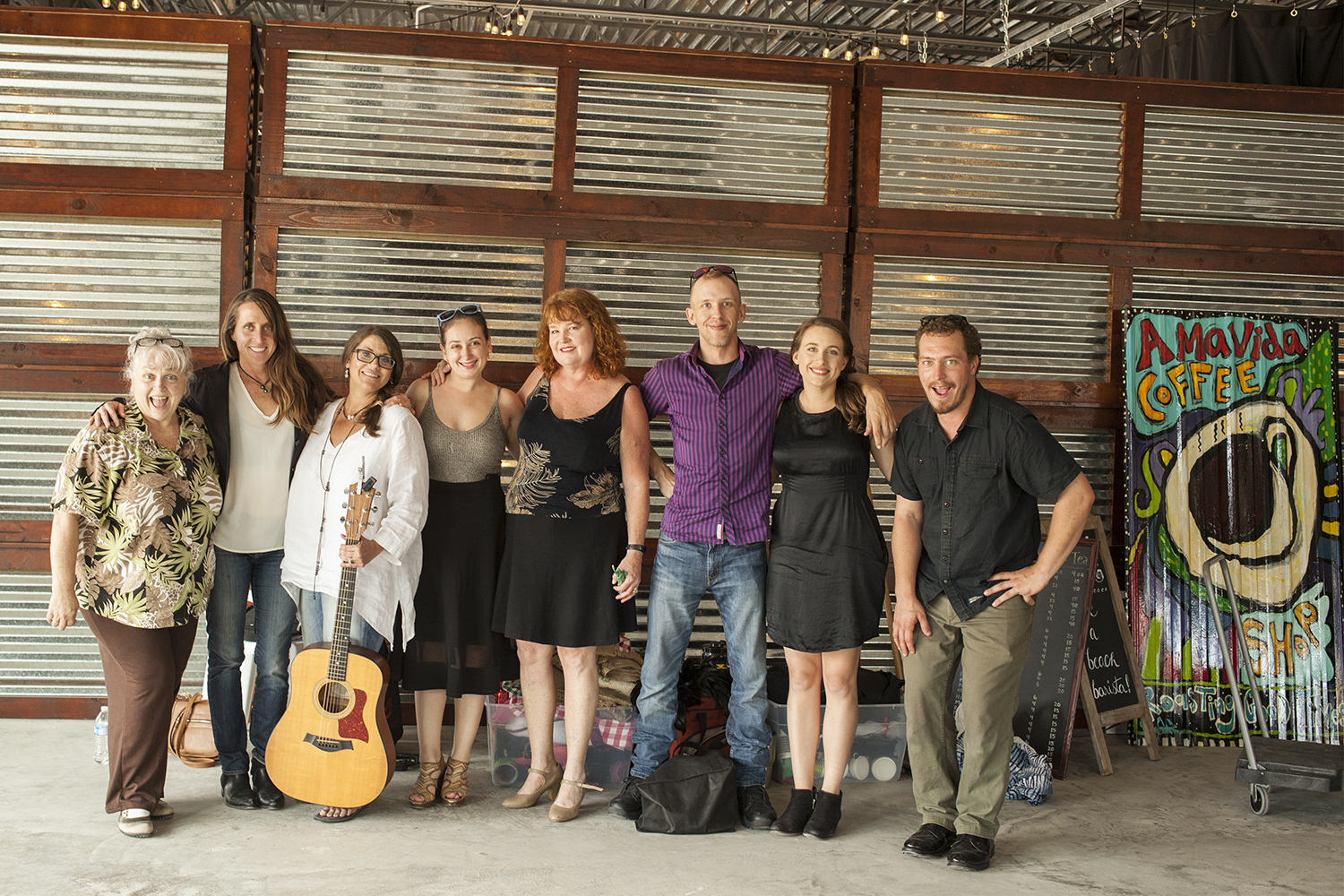 The original cast of MY BARISTA!  THE SKETCH COMEDY ADAPTATION: Peter Gromlich (Patron- Not Pictured) Liz Cain (Newspaper Boy/Patron), Anne Hunter (Writer/Director), Lisa Malone (Maggie), Hope Given (The Assistant), Redd (My Barista), Brian Cain (The Owner, Will McCall), Kayla May (Assistant Director/Jill), Christian Mayes (The Stylist). Photographer: Jack Gardner. 
ABOUT MY BARISTA! THE MUSICAL SKETCH COMEDY ADAPTATION
Starring REDD, the singing bartender from Redd's Fueling Station, MY BARISTA! is a 45-minute sketch comedy and variety show created by Anne Hunter, based on her musical, MY BARISTA! The show centers around a famous coffee-slinger and her summer job working as a barista for a notorious real estate developer at his new urbanist coffee shop on the Gulf of Mexico. In each show, REDD relives the summer over and over again, while the patrons of her coffee shop, played by a varying cast of repertory actors and local celebrity guests, present new parodies of contemporary culture and politics on Scenic Highway 30A – with soulful music, riotous humor, and the infamous REDD, performing as herself.
ABOUT MY BARISTA! A MUSICAL
Anne Hunter began writing the story for the musical MY BARISTA!  in 2004 as proprietor of The Fonville Press in Alys Beach. She sourced lyrics for the libretto from singer-songwriters performing at Ceruleans in Watercolor, and completed the book at Fanelli Cafe in Soho, NYC, in 2014. The workshop adaptation premiered at the Northwest Florida Theatre Festival in 2017. MY BARISTA! is the story of Nina Jordan, a free-spirited young woman with one wish: to find true love. After discovering a help-wanted advertisement to "Be a Beach Barista,"  Nina leaves the suburbs for a new urbanist beach town situated on the Gulf of Mexico where she is hired to open a coffee shop with a team of architects, accountants, lawyers, consultants and contractors. A tricky web of fumbled conspiracies unfolds as each faction of the team plots to take over the popular shop. When the patrons come to Nina's rescue, the passions of a small beach town turn into an epic turf war amidst a budding love that is tragically caught in the middle. Unable to circumvent the system, Nina becomes disillusioned while the coffee shop is secretly taken over by a new owner who threatens to demolish the beautiful beachside building. When Nina loses all hope, she resigns and the owner of the coffee shop posts a  "Be A Beach Barista" ad to hire a new barista to take her place. Nina's departure beckons the seed of new beginnings for everyone as the story ends. The sketch comedy adaptation begins when the next barista arrives to fill Nina's position.
NORTHWEST FLORIDA THEATRE FESTIVAL REVIEWS
The musical sketch comedy adaptation of MY BARISTA!  held its workshop debut at the Northwest Florida Theatre Festival in Sandestin on May 13th and 14th. We asked festival goers to post reviews about our first two performances. Here they are:
"It was so fun. The assistant was my favorite!
She was freaking hilarious!"
 "Redd CAN sing!" I didn't know!"
"Well for one thing, I really liked the song that goes 'don't cry for me Amavida."  
"Loved it when the actors talked to the audience like we were in the show."
"The show was funny."
"The Barista that quit at the beginning and and came back at the end. Where did she go? She was a pro."
"How long has the theater been there?"
"I like it a lot. Very cute & smart. Redd is great! Every character is really cool. But my favorite is the mystery woman. lol"
"Wow! Redd's voice and stage presence."
"The owner and the barista at the beginning and end. It ended too soon."
"Great show by Anne Hunter, staring REDD"
"Such a fun show hats off to the acting team and Redd's vocals!"
"Redd saying you know I can't dance. That was funny."
"The best friend and Redd and how they sang together!"
"When they talked to us in the audience like we were in the coffee shop with them."
"REDD!"
"Will Call for County Commissioner in that redneck hat. LMAO"
"I liked the agent and I wanted to hear him sing. Who is he….Does he sing?"
"When the ex-owner of Amavida goes and gets a coffee. Have his heel kick a little bit more. Maybe a few more giggles with it.
"When the agent and assistant ran off together and the wig falling off her head. Hehehe."
"Wig."
"The agent guy…??? Want his card I want to be famous tooooo!
"The best friend and her song."
"Felt like real life."
"Who wrote the song that Redd and the best friend sang all during the show? It was so pretty."
"As for comments, I would just tell the cast to RELAX. They had first day jitters. I loved they way they handled the stair trips and I throughly enjoyed the show."
"Redd singing with her best friend."
"The actress that opened the show with the funny comedy. Very talented. YES."
"Wanted to see more of the Owner. His character was so good and I wanted more of him."
"The guy in the coffee shop bolting after the key."
"Tweeting and the assistant and owner were funny together."
"Don't Cry For Me Amavida!"
"The tweeting you're fired! Lol"
"Is that Redd's best friend in real life? It seemed like it."
"Newspaper boy actress with the extra extra. Made me laugh.
"The man wanting coffee."
"Where is Redd's gas station?"
"Was it like a dress rehearsal? It felt like reality tv but on stage. Hilarious."
"The assistant can sing."
"Was it improv?"
"When the guy kept trying to order a 20 oz latte…"
"The harmonizing between Redd and the best friend – off the charts! WOW!
"I didn't know Redd could sing like that. She sings at a gas station on 30A?"
"Wonderful deep connection between Redd and her best friend." + "More from the barista at the beginning and the end."
"best friend."
"Loved the assistant and she can really sing. Especially when she sang 30A and Broadway with Redd."
"The owner kept leaving the stage. I wanted him to stay."
"My favorite song was 30A and Broadway" + "The man trying to order his coffee. awesome"
"LOL"
ABOUT REDD
Helen "REDD" Vizard is a professional singer, and television personality, residing in Santa Rosa Beach, Florida. REDD has been singing since she could see herself in the mirror  – alongside Cher, Donny and Marie and using a hairbrush as a microphone. She went on to sing in church choirs, concert choirs, performed in high school and community theatre musicals, and sang the national anthem at football games. REDD says: "I got my start by bugging whatever band was performing at local bars until finally had the nerve to say, "I can do this!" She moved to Scenic Highway 30A in 2007, from Key West and went on to star in Honky Tonk Angels at the Seaside Rep Theater in Seaside, Florida. REDD has made frequent appearances on 30A TV, QTV News, and New Year's Eve celebrations as seen on CNN. She spent a week on The Weather Channel as the "weather wannabe queen" and has performed in Las Vegas.  REDD's Fueling Station is tucked inside behind the only convenience store and gas station in Blue Mountain Beach.  Redd's Fueling Station is local hangout that features a full bar and local music featuring REDD The Singing Bartender, as herself. The Northwest Florida Daily News claims that, "REDD's Fueling Station Serves Up A Good Time." http://www.nwfdailynews.com/news/20170317/redds-fueling-station-serves-up-good-time . Her music releases are available at CD Baby ( http://www.cdbaby.com/artist/redd1 ) on on Amazon, and iTunes.
ABOUT ANNE HUNTER
Born in Manassas, Virginia, in 1971, Hunter spent her early childhood in Selma, Alabama, before moving to Plano, Texas, where she graduated from Plano Senior High School in 1990. She received a Bachelor of Arts in Political Science from the University of Alaska in 1997. Hunter moved to Santa Rosa Beach, Florida, in 2004, and opened cafes and art galleries in the new urbanist communities of Alys Beach, Watercolor, Rosemary Beach and Seaside. In 2010, she moved part-time to SoHo, New York City, to scout emerging artists while becoming a freelance writer. She completed the book and libretto for MY BARISTA!  in 2014. Her fantasy-fiction epic, The Bohemians, is chronicled in three books released in serial episodes beginning in 2016. Her art gallery, Anne Hunter Galleries is located at 25 Central Square in Seaside and is dedicated to preserving the primitive, contemporary, tactical and modern art of the new urbanism.
ABOUT THE NORTHWEST FLORIDA THEATRE FESTIVAL
The Northwest Florida Theatre Festival is an inclusive and creative celebration of a community of artists embracing what makes us the same and what makes us unique. Engage in the Northwest Florida Theatre Festival as a performer or participant in the experience and become a part of an innovative avant-garde gathering of art and artists. Hosted by Emerald Coast Theatre Company at 560 Grand Boulevard, Upstairs, Miramar Beach, Florida, May 12-21, 2017. Performances are open to the public. For entry, participants are required to have a Festival Button ($5), show tickets are $10-$20. For more information, submission application, schedule, and ticket sales go to www.NWFTheatreFestival.com. #AStageForAll
ABOUT EMERALD COAST THEATRE COMPANY
Emerald Coast Theatre Company is a 501(c)(3) founded in 2012 by Nathanael Fisher, MFA, and his wife, Anna Fisher. Based in Miramar Beach, Florida, ECTC's mission is to enrich and entertain the Emerald Coast community through professional and educational theater. ECTC operates year-round with a two-fold mission to provide both educational and professional offerings to the Northwest Florida community. Educational outreach includes after school and home-school programs, touring and staged productions, summer camps, workshops and classes. The professional theater efforts are focused on thought provoking productions, festivals and collaborations as well as acting and improv workshops and classes for adults.